Donate
Make a donation to Tiny Seeds and help us to continue to provide free support services to anyone facing infertility or needing the help of fertility treatment to conceive.
We receive no guaranteed funding and any donations will make a big difference to us. We have an active and growing support network who we are helping on a daily basis. We offer face-to-face support meetings, advocate for better fertility funding and services, educate and raise awareness at every opportunity. The more we do, the more we realise needs to be done and your donations will help us grow as a charity.

Give
Monthly

Since our formation in 2020 we have seen the need for our services increase month on month and the more we do, the more we realise even more needs to be done. And we are seeing firsthand the difference our support is making to the lives of those we help.
From starting out as a small online support group we are now, just a short time later, a fully registered Jersey charity offering:
2 dedicated online private groups for advice and support
3 social media pages sharing support, experiences and awareness
Our website to provide Jersey specific support and advice
Six weekly fertility support meetings
Six weekly pregnancy after infertility and loss meet-ups
Six weekly meetings with our local fertility service sharing service user feedback and helping implement changes where needed
Regular question and answer sessions and events with local and national fertility experts
Fertility yoga classes
A podcast channel
Continued campaigns for awareness and improvements to local services and funding
Much much more!
But all of these services and activities come with associated costs which as a small charity and a new charity, means we are needing to work hard to keep up.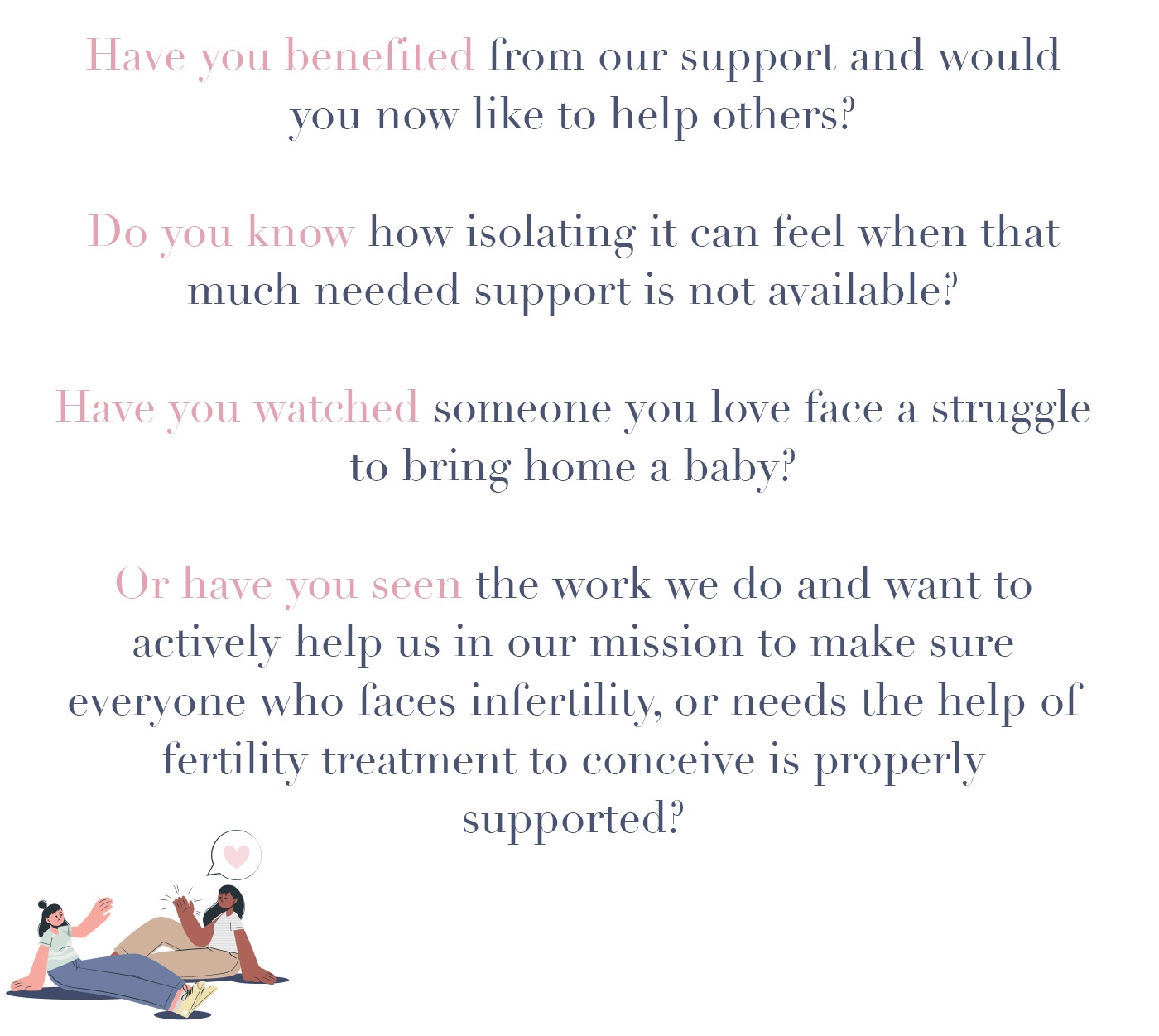 Then we would be so grateful if you would consider signing up to become a monthly giver for Tiny Seeds.
We receive no guaranteed funding, so if you can, contributing on a monthly basis would be a wonderful way to provide us with some financial security and to help us ensure that no-one in Jersey has to face infertility, or go through fertility treatment, alone.

You can sign up to become a monthly giver via our justgiving page
Volunteer
As our charity grows, so does our need for volunteers and there are a number of ways you can help us, whether that might be helping us to organise and run events, sharing your own lived experience to support others, or offering a specific skill or service that would help us.
Please get in touch by email to hello@tinyseeds.je to discuss volunteering opportunities, we would love to hear from you.
Fundraise
We receive no guaranteed funding so fundraising makes a huge difference to our charity and the 1 in 6 couples to whom we offer our support. Whether you are currently facing fertility struggles, have been through your own journey with infertility or want to show support for a family member or friend, we would be so appreciative of you fundraising for us.
To discuss ideas or to share your fundraising plans (so that we can share them too!) please get in touch by email to hello@tinyseeds.je
To discuss ideas or to share your fundraising plans (so that we can share them too!) please get in touch by email to hello@tinyseeds.je
Contact us