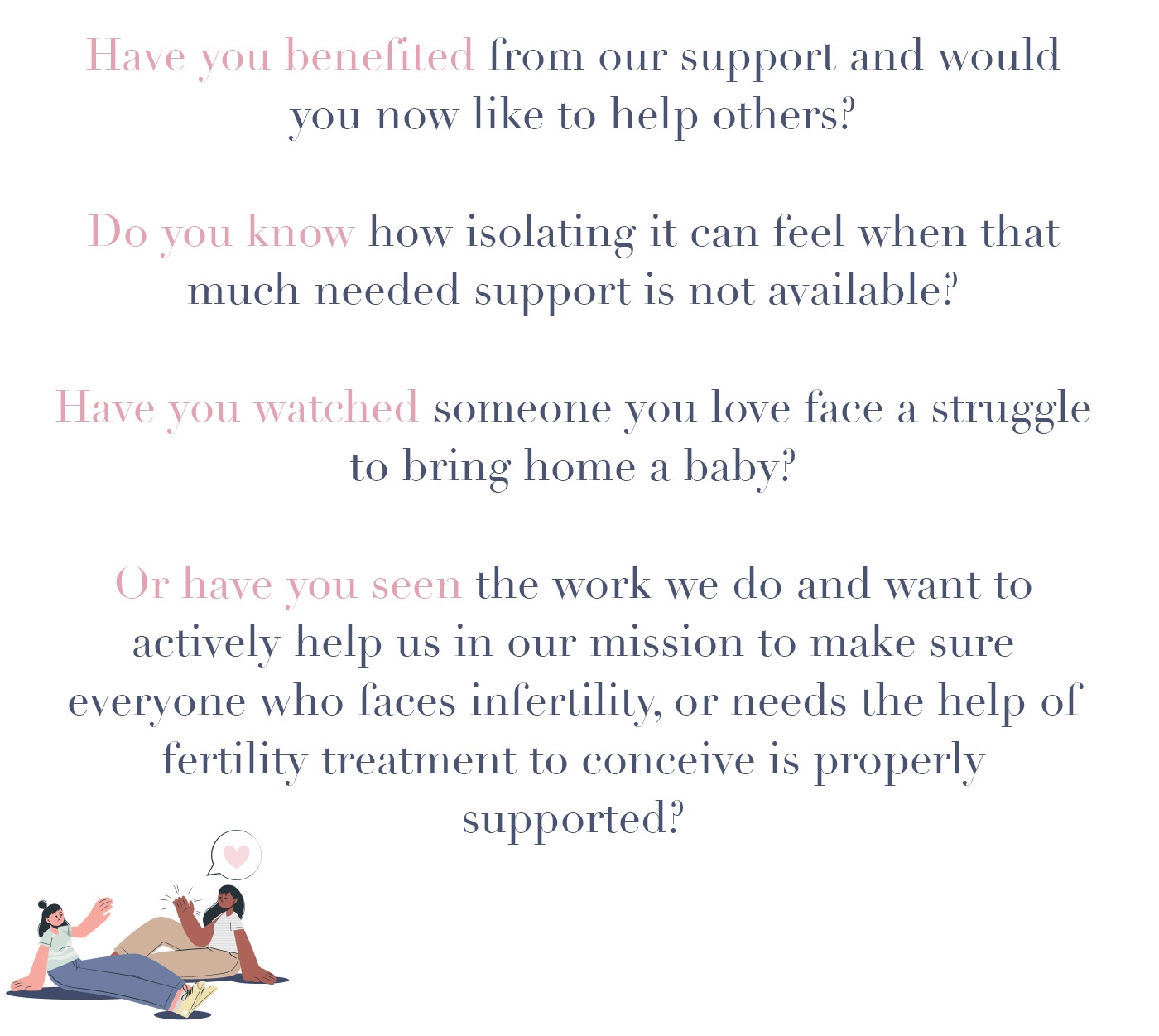 With your help we can...


Continue to provide a free support service and broaden the variety of those services we offer
Provide practical information specific to those going through fertility treatment here in Jersey
Offer travel grants to those travelling away from the island for IVF treatment
Campaign for access to fair funding for fertility treatment
Continue to raise awareness and education around the impact that infertility has on those going through it
Be a voice for fertility patients and help to improve the service they have access to
Donate
The more we do, the more we see even more needs to be done and your donations will help achieve our aims.

Volunteer
As our charity grows, so does our need for volunteers and there are a number of ways you can help us, whether that might be helping us to organise and run events, sharing your own lived experience to support others, or offering a specific skill or service that would help us.

Please get in touch by email to hello@tinyseeds.je if you would like to be added to our database and notified when we need volunteer support, we would love to hear from you!
Fundraise
Fundraising makes a huge difference to our charity and the 1 in 6 couples to whom we offer our support. Whether you are currently facing fertility struggles, have been through your own journey with infertility or want to show support for a family member or friend, we would be so appreciative of you fundraising for us.
To discuss ideas or to share your fundraising plans (so that we can share them too!) please get in touch by email to hello@tinyseeds.je
Corporate
Support

HOW COULD YOU HELP US GROW?

If you are a corporate organisation that would like to help the 1 in 6 people facing a struggle to bring home a baby then we would love to hear from you. We have outlined a few ideas for how you could help us deliver our much needed support below:

Donate to our IVF Travel Fund

Infertility is defined as a disease by the World Health Organisation of which the mental, physical and financial toll on those who face it is huge. NICE (the National Institute of Health and Care Excellence) recommend that funding is offered for up to 3 full cycles of IVF for those who need the treatment to help them conceive. Yet here in Jersey, IVF is only available on a predominantly private basis and treatment can only be accessed away from the island with an average of £17,000 being spent on the treatment and travel costs by those who need it.

Tiny Seeds, with the generous support of the Jersey Community Foundation, has recently established a fund to allow us to offer £400 travel grants to those travelling away from the island for IVF. At present we anticipate that we have enough in this fund to offer the grants for the next 6 months so we would be hugely appreciative of your support - whether through donations, or targeted fundraising - to help us grow this fund and allow us to continue providing these much needed grants beyond the current six month timeframe.


Sponsor one of our Crafternoon Tea events


At the beginning of 2023 we took the original idea of a fun afternoon spent learning new skills and eating delicious food, all within a beautiful setting and formed "Crafternoon Tea". Our first fundraiser in this format proved to be a fast sell-out and an overwhelming success on the day! As a result of this success we proceeded to hold a further two Christmas events, again both selling out within just a couple of days, raising over £5,000 for Tiny Seeds!

As a result our Crafternoon Teas are fast becoming flagship events for our charity and we are on the lookout for sponsors to hep us to continue to run these again in 2024.

"It was fabulous thanks to your amazing preparation and attention to detail! Such a wonderful afternoon!" - attendee feedback

In thanks for sponsorship you will receive 2 free tickets to your sponsored event, brand exposure on all related media and at the event, along with the opportunity to introduce your organisation and to highlight why you have chosen to support Tiny Seeds.

Please get in touch to discuss this opportunity in more detail.


Make us your Charity of the Year for 2024

We are a small and still relatively new Charity, one that has entered the busy Charity sector with a cause that can at times be faced with stigmas and misconceptions. But in just a short time we have been making great strides in awareness and education and in changing public perception. A fantastic way of helping us to break down the taboos surrounding fertility, while helping us to raise the profile of Tiny Seeds and the important work we do would be to make us your Charity of the Year for 2024.

Organise a corporate fundraiser

If you would like to support us but perhaps on a smaller scale, please consider choosing us for any corporate fundraising events you may be organising. We have listed a few ideas below:
Proceeds from dress-down days
Bake sales / coffee mornings / bake off challenge
Office raffle
Social events such as quizzes and bingo evenings
All employee challenges
Any wonderful employees taking part in sponsored sporting events
HOW COULD WE HELP YOU?
We are working with an ever growing number of local employers wishing to ensure that they are a fertility friendly workplace and by way of thanking you for your support, we would love to help you be a part of this initiative too by:
Helping you to ensure there is support in place for your employees;
Scheduling training sessions for your employees to understand how they can support those staff members experiencing infertility or needing the help of fertility treatment to conceive;
Working with your HR team to review and/or help formulate fertility policies;
Working with you to understand why fertility support and awareness in the workplace is so important!
Find out more about our workplace initiative and take a look at our guidance for employers here.